Department of Applied Information Technology
At Campus Lindholmen you will find the Department of Applied Information Technology.
At the Department, there is a wide range of programs and standalone courses in areas such as digital leadership, human-centered AI, cognitive science, communication, and pedagogy with a focus on ICT.
About Department of Applied Information Technology
Contact information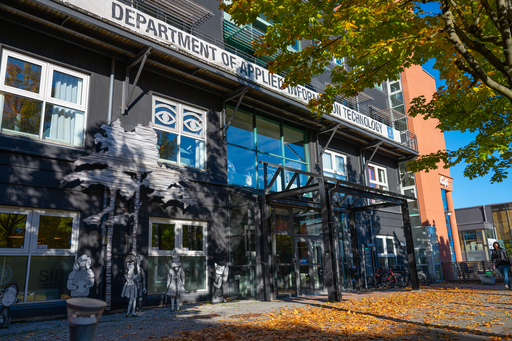 Our Facilities
House Patricia
In House Patricia on floors two, three, and four, you'll find our classrooms. When they are not in use for teaching, they are available for individual or group study. As a student, you are responsible for ensuring the door is securely locked when the room is empty, following the instructions next to the code lock.
On the fourth floor, you'll also find study spaces and a student kitchen with microwaves, as well as an unbookable rest area.
House Svea
Here, there are two larger areas for individual study and several group rooms. To access and book these, you need to be admitted to one of the programs within the IT faculty.
Learn more about study spaces at Campus Lindholmen here.
Learn more about booking group rooms here.
Defibrillators (AEDs)
There are two defibrillators (AEDs) available at the department.
In Hus Svea, on the 4th floor, near the printer in the open student area. In Hus Patricia, on the 3rd floor, near the printer close to the recycling bins.
Student office
Here you can pick up your exams and certificates. You can ask questions about your results or any other questions.
Drop-In Hours
You are welcome to visit us during our drop-in hours. We are available on Tuesdays, Wednesdays, and Thursdays from 11:00 AM to 12:30 PM. Ring the bell at the door, and we will come and assist you.
If you would like to schedule a meeting at another time, please feel free to contact us via email or phone.
Telephone
Lisa Johansson, 031-786 2916
Lyudmila Vafaeva, 031-786 2762
E-mail
studieadministration@ait.gu.se
Visiting address
Room Unix or Linux, floor 3, house Patricia, Forskningsgången 6, Lindholmen
At the moment we have not published any news articles.