Sahlgrenska Academy
Sahlgrenska Academy is the medical faculty at the University of Gothenburg. We educate and carry out research in medicine, dentistry and healthcare science.
We educate doctors, nurses, dentists and a range of sought-after care professions. Examples of strong research areas are cancer, cardiovascular disease, women's and children's health, metabolism, neuropsychiatric diseases, person-centred care and dentistry.
Much of our research and education takes place on Campus Medicinareberget, which is shared with the health care services, primarily at the Sahlgrenska University Hospitals. In odontology, we have a corresponding collaboration with the Public Dental Service's in Västra Götaland.
The dean is Agneta Holmäng, professor of laboratory medicine.
About Sahlgrenska Academy
Contact information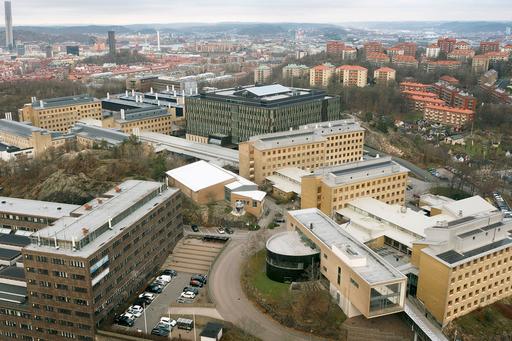 Campus Medicinareberget
The Sahlgrenska Academy is located for the most part on Medicinareberget, which is close to the Sahlgrenska University Hospital area between Guldheden and Linnéstaden. Medicinareberget is also home to Public Dental Service's specialist clinics. Some training is outside the campus area, at Sahlgrenska University Hospital's three hospitals, Sahlgrenska, Östra and Mölndal.
The training in medicine, healthcare and dental care is mainly conducted in Medicinarelängan, at Hälsvetarbacken and at Odontologen. In all these buildings there are lecture halls, group rooms and computer rooms.
The faculty's clinical training centre, KTC is situated at Hälsvetarbacken. KTC consists of several patient rooms, an emergency room, operating room, X-ray room, speech and hearing lab, CPR room, conversation room, creative room, medicine room, lavatory, storage room and several small rooms where you, as a student at Sahlgrenska Academy, can practice practical handling, care of patient, conversation and team collaboration.
The public dental service's training clinic is located at the Odontologen. If you are training to become a dentist or dental hygienist, you will treat patients here during your training.
Student spaces
All buildings have lunchrooms where you can heat your food, eat or sit and study. In Medicinarelängan, there are also tables and benches outside in the corridor.
There are several cafes and lunch restaurants on Campus Medicinareberget, and in its vicinity. In the hospital area there is also a Pressbyrån and Dahls Bakery.
In addition to lunchrooms, there are study spaces, rest rooms and quiet rooms for you as a student. The study spaces are scattered on Medicinareberget. Here is a list of study spaces that do not need to be booked.

In Medicinarelängan there are also two quiet rooms. You will find them upstairs at Medicinaregatan 5A. The rooms are unlocked from 06:30 to 18:00. The rooms are open to everyone regardless of religion or belief, gender, transgender identity or expression, ethnicity, disability, sexual orientation or age. The rooms must not have any religious symbols, but visitors are welcome to bring personal items such as books, yoga or prayer mats.
As a student at Campus Medicinareberget, you have access to the Biomedical Library and the Hälsvetarbacken library.
You can also use the Gothenburg University Library's resources.
Buses and trams
At the stops Medicinaregatan and Sahlgrenska Huvudentré there are plenty of tram and bus lines that take you to all parts of Gothenburg. You can easily find which tram or bus line to take with the help of Västtrafik's travel planner.
Akademiliv Student - newsletter for you as a student
Akademiliv Student is a digital newsletter that is sent out via e-mail to students at Sahlgrenska Academy with a student e-mail address. The content is mainly in Swedish.
In Akademiliv Student, you are informed about current events within and outside the academy. The newsletter is produced by the faculty's communications department and sent out approximately twice a month. Publication is suspended during June, July and August. The editor is Anette Nilsson and the responsible publisher is head of faculty office Annelie Tobin.